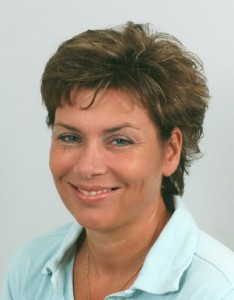 After finishing pre-university education I left for Greece for love and learned the Modern Greek languate at the University of Athens. I worked in Piraeus as an insurance advisor for the Greek insurance company Ethniki Asfalistiki. Once back in the Netherlands I studied Tourism at the NHTV (Breda University of applied sciences) and because of my knowledge of the Greek language I started working for the Greek-Dutch trading company Conomara Import / Export B.V.
My first interpreting experience was in July 2005 as a volunteer. Because of my love for Greece and my knowledge of the Greek language, I was asked to interprete for the Greek dance group Kalarrytes from Ioannina during the multi-day International Folkloric Dance Festival in Zelhem, the Netherlands. This was a unique experience that made me discover my love for interpreting.
In the Netherlands I have been qualified as an interpreter and translator Dutch – Greek and Greek – Dutch by the SNEVT (Foundation for National Exams for Translator and Interpreter) and the University of Amsterdam. Since 2014, I have been listed as an official interpreter and translator in the Dutch and Greek languages ​​in the Register of official interpreters and translators (Rbtv) of the Legal Aid Board, which is responsible for the implementation of the Sworn Interpreters and Translators Act (Wbtv). Since 2021, the registration as a sworn translator English-Dutch and German-Dutch has been added and since 2022 the registration as a sworn translator Dutch-English. This not only means that I have extensive experience in interpreting and translating, but also that I continuously ensure that my knowledge is up-to-date through further training. I am also included in the list of certified official interpreters and translators of the Embassy of Greece in the Netherlands.
In 1995 I started to teach Modern Greek language to individuals. In 2007 I started teaching Modern Greek language at the Volksuniversiteit Doetinchem and surroundings (later Volksuniversiteit Achterhoek, De Gruitpoort and Amphion /Cultuurbedrijf). I still teach Modern Greek language to beginners and advanced students, both individually and in groups.
I can help you with the official translation of all kind of documents from Dutch into Greek or from Greek into Dutch and from English or German into Dutch. In addition, I can provide (non-sworn) translations from Dutch or Greek into English or from English or German into Greek.
Do you need an interpreter? For example, at the notary to buy a house or at a medical specialist or the court? I have broad knowledge and can support you in all kinds of areas as an official interpreter in Greek and Dutch. I can interprete for you during informal or formal occasions, such as in court or at your notary, doctor or employer. I can also help you by, for example, obtaining information from Greek authorities or filling in Greek forms.
Please contact me for more information about the services I can provide.